Challenge your imagination in 3D!
An amazing creative tool for professionals and a great start for beginners!
Ready for 3D Printing!
Support provided by Shade3D Co.,Ltd!
Shade 3D has been sold to more than 500,000 active users around the world and is used in many different sectors of the 3D industry.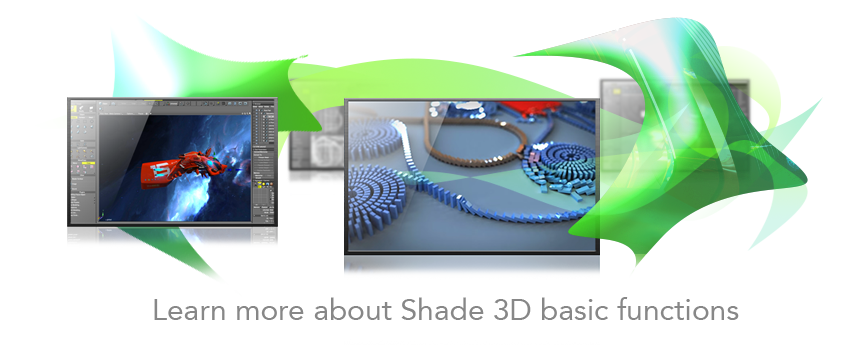 | | |
| --- | --- |
| Interior Design | Product Design |
| | |
| Architecture | Character Animation |
| | |
| PR・Event/Exhibition Design | 3D Printing |
| | |
>>Click here to obtain more information about the new Shade3DVer.19<<
Some of the Main Features of Shade3D
OpenSubdiv




A new method of Subdivision is now supported. As a extended version of the famous Catmull- Clark subdivision system, OpenSubdiv allows you to control your edges sharpness and apply subdivision exactly on the targeted spots.

Polygon Reduction




This tool will reduce the polygon number of any objects and at the same time will preserve the original shape. Perfect for games and models acquired from 3D scanners.

Wrapping Mesh




The Wrapping Mesh tool will create a single watertight shape out of several complicated objects. It is perfect for 3D printing.
Basic Functions
Modeling




Thanks to the Curve Surface modeling, you can achieve an amazing level of detail and create shapes with more ease than with traditional polygon modeling technique.

Animation Output




Create an animation by combining a variety of joint (such as bones) and skin settings and then output to a file format such as MOV or AVI.

3D Printing Assistant




A brand new 3D Printing Assistant will help you to check and repair your model and get it ready for 3D Printing ( STL and OBJ formats).